Wikiversity

In order to foster effective training on digital library conceptual frameworks, DL.org has forged an alliance with the Digital Library Curriculum Project, which is funded by the National Science Foundation (NSF, U.S.) as a collaborative research project that builds upon an alliance between Virginia Tech and the University of North Carolina, Chapel Hill. This alliance has been instrumental in shaping web-based educational and training modules for the library and information science community, whether they be practitioners or students at different stages in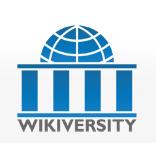 their academic career. The modules on Digital Libraries/Conceptual frameworks, models, theories, definitions in the section on Digital Libraries hosted on Wikiversity.The DL.org modules provide a high level, comprehensive knowledge base on a number of conceptual frameworks and models, with the aim of fostering familiarity underpinned by a full set of unified terms  and an overall scheme that helps to classify further reading and analysis. The module provides an introduction to a number of core conceptual models characterising the digital library space:
The DL.org Digital Library Reference Model.
Streams, Structures, Spaces, Scenarios and Societies (5S), a unified formal theory for Digital Libraries.
The DELOS Classification and Evaluation Scheme.
CIDOC Conceptual Reference Model.
DOLCE-based Ontologies for Large Software Systems.
Additionally, the reference section includes pointers on a wide selection of recommended reading material.Trainees can self-assess new knowledge acquisition by completing the exercises provided. The modules can also be used by professors and trainers as part of their digital library educational programme.
Acknowledgements
DL.org would like to thank Professor Edward Fox, Virginia Tech and member of the DL.org Working Group on Functionality, for his instrumental role in the publication of these modules on Wikiversity.