DL.org regularly conducts interviews with leaders and pioneers from the Digital Library space in Europe and across the globe to explore how grand challenges like interoperability are being tackled and share this knowledge with the wider community.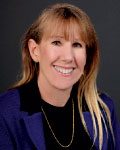 Geneva Henry, Rice University, interviewed during the 1st DL.org Workshop on 1 October 2009 in Corfu, Greece.
1st Workshop Interviews:
Video question and answer with Geneva Henry, Executive Director of the Center for Digital Scholarship at Rice University, U.S. and DL.org External Advisory Board on the significance of a common reference model for Digital Libraries.
Video question and answer with Ronald Larsen, Dean and Professor of the School of Information Sciences at University of Pittsburgh, U.S. highlighting the importance of DL.org, opportunities and impact.
Face-to-Faces for DL.org Newsletters:
Face-to-face with Jill Cousins, Programme Director of Europeana, spotlighting the project's significance, challenges and links with DL.org.
Face-to-face with Jane Mandelbaum and Martha Andersen from the Library of Congress on how they are playing a pioneering role in tackling  DL challenges not only on an institutional level but also through the National Digital Information Infrastructure and Preservation Program (NDIIPP).