DL.org Brochures
New DL.org Dissemination Flier & Autumn School 2010 Fliers Available!
DL.org regularly updates its dissemination fliers to keep our stakeholder community abreast of developments and inform them of events where we will be in attendance. Our latest dissemination flier features a quote from Ronald Larsen, University of Pittsburgh, U.S.; an overview of our main outputs: the Digital Library Reference Model and the Technology and Methodology Cookbook; the focus of the 2nd DL.org Workshop on Making Digital Library Interoperable: Approaches and Challenges, 9-10 September 2010 in Glasgow, Scotland and the Networking Session we are holding at ICT2010 in Brussels, Belgium on Wednesday 29 September.
Download the Brochure here.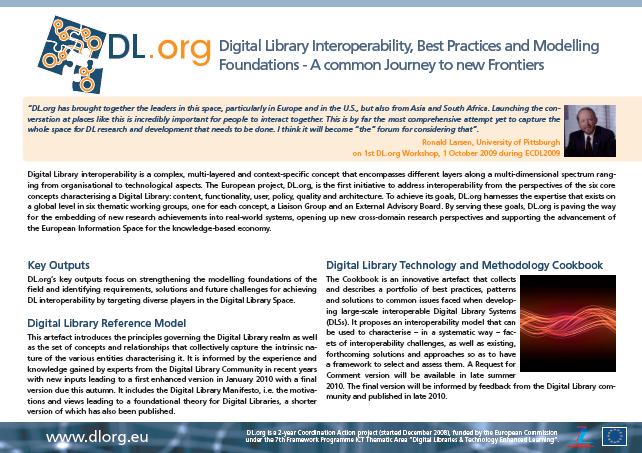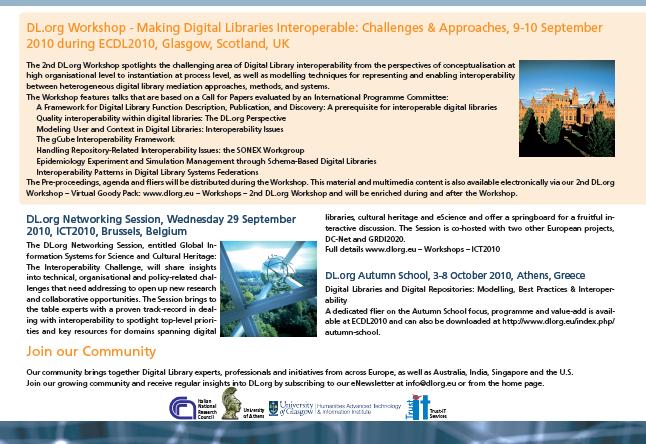 The Autumn School Flier features a quote from Edward Fox, Virginia Tech, U.S., an overview of this premier educational and training event on Digital Libraries and Digital Repositories: Reference Modelling, Best Practices and Interoperability, 3-8 October 2010 in Athens, Greece, focus, registration and bursary information along with the programme led by internationally recognised lectureres in the field.
Download the Autumn School Flier here.