11th International Workshop on Image Analysis for Multimedia Interactive Services
12-14 April 2010, Desenzano del Garda, Italy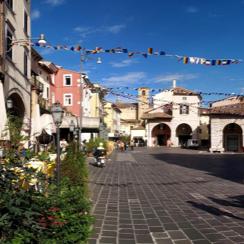 The International Workshop on Image Analysis for Multimedia Interactive Services (WIAMIS) is one of the main international events for the presentation and discussion of the latest technological advances in interactive multimedia services.
The objective of the workshop is to bring together researchers and developers from academia and industry working in all areas of image, video and audio applications, with a special focus on analysis.
After a series of successful meetings starting in 1997 in Louvain, WIAMIS 2010 will be held in Desenzano del Garda, by the beautiful Garda Lake, close to Brescia, Italy.
WIAMIS 2010, will host keynote and tutorial talks by:
Alberto del Bimbo, University of Florence, Italy
David Taubman, The University of New South Wales, Sydney, Australia
Marco Tagliasacchi, Politecnico di Milano, Italy
Nicu Sebe, University of Trento, Italy
Special Sessions:
Semantic Digital Libraries for Cross-Discipline Retrieval
Interactive Multimedia in Social Networks
An extended version of selected papers will be published in the Springer's Lecture Notes in Computer Science Series.
Topics of interest include, but are not limited to:
Multimedia content analysis and understanding
Content-based browsing, indexing and retrieval of images, video and audio
Content-based copy detection
Emotional based content classification and organization
2D/3D feature extraction
Advanced descriptors and similarity metrics for audio and video
Relevance feedback and learning systems
Segmentation of objects in 2D/3D image sequences
Motion analysis and tracking
Video analysis and event recognition
Analysis for coding efficiency and increased error resilience
Analysis and tools for content adaptation
Multimedia content adaptation tools, transcoding and transmoding
Content summarization and personalization strategies
End-to-end quality of service support for Universal Multimedia Access
Semantic mapping and ontologies
Multimedia analysis for new and emerging applications
Multimedia analysis hardware and middleware
Semantic web and social networks
Advanced interfaces for content analysis and relevance feedback
Applications
For more information visit the WIMAIS website -
http://www.ing.unibs.it/wiamis2010/