Call for Papers is now open for the World Library and Information Congress: 76th IFLA General  Conference and Council "Open access to knowledge - promoting sustainable progress"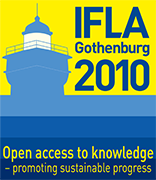 , 10-15 August, Gothenburg, Sweden.
The IFLA annual congress provides an opportunity to present library research and outcomes in Information Technology and  Innovation in a multi-disciplinary international forum.
The IFLA  Information Technology, Cataloguing, and Classification and Indexing sections invite technologists, librarians and other  interested parties working in the field of the semantic Web to submit proposals for papers in a 4-hour joint session in Gothenburg, Sweden.
Session Theme: Libraries and the Semantic Web
The Semantic Web has always raised within the library community. Now that libraries have fully entered the Web 2.0, they are facing a new challenge as  they seek to play a major role in the Web value chain, by empowering their services in the user's flow and making their  data work harder, in a more accessible and reusable way. Semantic Web technologies present valuable opportunities for the development of these objectives, by creating appropriate data models that will be the next generation of library metadata formats, leveraging new technologies for innovative library systems, or making high-quality level data such as authority data or thesauri available to a wider community.
While these opportunities are known to a small community of technically savvy librarians, the strategic  importance of these topics to the library community at large has yet to be demonstrated. Therefore the session aims at raising awareness among the library community about the relevance and potential of Semantic Web technologies for libraries.
This 4-hour session will open with a keynote presentation introducing the concepts of the Semantic Web and Linked Data.  This is a call for additional papers that focus on how libraries can take over these technologies to create opportunities for their data and services on the Web.
Relevant topics include: data modelling issues and how the Semantic Web relates to library standards such as MARC formats, FRBR, FRAD, etc.; libraries on the Web of knowledge : how Semantic Web technologies such as Ontologies, SKOS, etc. relate to library efforts in the field of classification, indexing and knowledge management; new options for searching, browsing and navigating in cross-domain objects linked to the web; next generation library systems: how Semantic Web technologies may change the way we design and create library software systems;
open data / licensing issue: clarifying the licensing model for publishing open data on the Semantic Web; "success stories" and examples of existing projects in libraries using Semantic Web technologies.
This session is not intended as a technical session but as an introduction to the vision of the Semantic Web and the Linked Data movement for decision makers in libraries: understanding how the goals of libraries in terms of knowledge building and sharing relate to the context of the web.
Submissions and guidelines:
The deadline for submitting a detailed abstract of 500 words and full author details is 2
8 February 2010
. Selection of papers is based on the abstract, and presenters will be notified by the end of March 2010 at the latest whether they have been successful. Fore more details, please click
here
.