ICT 2010 Exhibition: cutting edge research - Reminder: Application Deadline 15 April 2010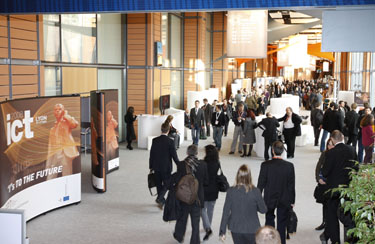 Experience Europe's latest cutting edge research in digital technologies at the ICT 2010 exhibition.
Researchers from all parts of Europe and beyond will present their latest work in upstream ICT innovation as well as close-to-market projects. This is an opportunity to explore what is happening at the coal face in your area of interest and to find potential future collaborators.





Belgium's national pavilion will, in addition, showcase the innovation spirit of the host country through a range of Belgian digital solutions.
Exhibition Applicants
Organisations involved in European research and development as well as deployment projects and associated support activities to submit an idea for an exhibit. It is open to all sorts of actors in ICT research: universities, research institutes, non-profit organisations, public authorities and commercial companies including small and medium sized enterprises.
Selection Criteria
The exhibits will be selected in view of presenting visitors with an interesting, where possible hands-on experience of what ICTs offer today and will offer in the near future. Visually appealing and interactive exhibits should be preferred.

For more information and to access the online application facility, please follow this link