The presentation at the
Open Repositories 2010
conference, which will be led by Giuseppina Vullo, University of Glasgow and co-ordinator of DL.org Quality Working Group, is scheduled at 16:45 within the General Session 3.B (Room 2). The talk is co-authored by Perla Innocenti, University of  Glasgow and coordinator of the Policy Working Group and Prof. Seamus Ross, University of Toronto, and will be focusing on:
Policy and quality within the DELOS Digital Library Reference Model, an expanded and enhanced version of which was published in November 2009.
Core policy & quality aspects affecting digital repositories.
The DL.org policy & quality interoperability frameworks.
Real-world cases & surveys on policy & quality interoperability.
On 7th July morning, a Birds of Feather Session will also be dedicated to an open discussion about the DL.org project issues and outcomes (Room Reino Unido A, 11.00-12:30). The session is hosted by University of Glasgow & Trust-IT with support from two members of DL.org's Working Groups (Content, User & Functionality) from the National Research Council of Italy (CNR-ISTI) and the University of Athens.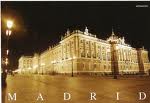 The Open Repositories Conference brings together individuals and organisations responsible for the conception, development, implementation, and management of digital repositories, as well as stakeholders who interact with them for achieving the widest possible integration in theoretical, practical, and strategic matters.