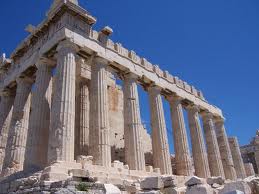 DL.org has teamed up with the Veria Central Library and  the Laboratory on Digital Libraries and Electronic Publishing at Ionian University for a one-day Workshop, Theory and Practice in Digital Libraries: A European Approach, on Monday 13 December 2010. The Workshop brings together over 80 representatives from the Greek Digital Library community, spanning librarians and library managers, researchers, PhD students, theorists and practitioners.
Yannis Ioannidis from the University of Athens & DL.org partner opens the Workshop offering insights into Digital Libraries, the core concepts that define a Digital Library with particular reference to the DL.org Reference Model. A Demo Session illustrates a number of functionalities of Digital Libraries in the European landscape: Europeana, TEL & TELplus, Access-IT, DRIVER & OpenAIRE, and D4Science.
The event also explores Heterogeneity in European Digital Libraries: The Europeana Challenge with a talk from Yannis Trohopoulos and Vaggelis Banos, Veria Central Public Library; Interoperability approaches on metadata with a talk from Sarantos Kapidakis, Laboratory on Digital Libraries and Electronic Publishing, Ionian University and the DL.org Cookbook presented by Leonardo Candela from the Institute of Information Science and Technologies, National Research Council of Italy. Presentations will serve as a springboard for further deliberations during the Open Discussion, which concludes the Workshop.
The Workshop will facilitate a better understanding of Reference Models in the Digital Library space and of how interoperability challenges are being addressed by DL.org, both through the Reference Model and the Technological and Methodological Cookbook. European perspectives from DL.org strategic partners in attendance will also deliver valuable insights into how current solutions can be leveraged. The ultimate aim of the Workshop is to close the gap between theory and practice so practioners and researchers alike are better placed to tackle the challenges that lie ahead.