Italian and European Digital Humanists will be gathering in Florence for THATCamp, 23-26 March 2011 to discuss digital scholarship and methods today. The DL.org Digital Library Reference Model will be one of the key tools presented at the event, described as an un-conference.
THATCamp is hosted by the Department of History and Civilisation of the European University Institute in Florence, Italy, and is supported byseveral European scholarly institutions, including the Institute of Science & Information Technologies (ISTI), the co-ordinating partner of DL.org. Vittore Casarosa from the same institute will be shining the spotlight on the project's Digital Library Reference Model, a key output stemming from the DELOS Network of Excellence which has been enhanced and extended in synergy with a group of internationally renowned experts.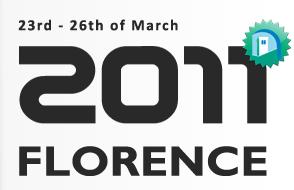 The Reference Model serves as a roadmap enabling players in the DL space to  share a common understanding and follow the same route when dealing with entitites in this complex universe. It is made up of three, self-contained sections, that is, a Digital Library Manifesto, the Digital Library Reference Model in a Nutshell and Digital Library Reference Model Concepts & Relations. Checklists for the Reference Model are currently being developed.The next release of the Reference Model is due late February 2011.
THATCamp (The Humanities and Technology Camp), offers an important backdrop to showcase the important role played by reference models in the digital age with reference to the field of Digital Humanities and Digital History organised by several European scholarly institutions. THATCamp is a so-called "un-conference" promoted by the Center for History and New Media at George Mason University in Virginia, organised for the first time in Italy. An unconference is not a spectator event. Participants in an unconference are expected to present their work, share their knowledge, and actively collaborate with fellow participants rather than simply attend.