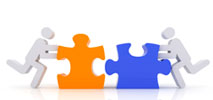 One of the major outputs of DL.org is a Digital Library Reference Model shedding light on the complex Digital Library universe to facilitate Library and Information Science professionals, as well as assessors of Digital Libraries. The Model is also of value to educationalists, students and researchers from the field. It comprises four equally important parts with varying layers of abstraction and concretisation: Manifesto, In a Nutshell, Model Concepts and Relations and Conformance Check List.
The Manifesto, is the driving force behind these Digital Library Modelling Foundations, laying down the main notions characterising the Digital Library universe in rather abstract terms. The Digital Library Reference Model in a Nutshell examines these notions in more detail and with reference to the main concepts and relationships that are related to each of the aspects captured. The Reference Model Concepts and Relations is scoped to cover these concepts and relations in greater detail, explaining their rationale, as well as offering examples of their instantiation in real scenarios. The Digital Library Conformance Check List provides assessors with a set of criteria which can be used to determine whether a digital library complies with the DL.org Reference Model.
The complete Reference Model can be downloaded here.
Web-based, abridged version of the Manifesto can be viewed here.
Web-based, abridged version of the Conformance Check List can be viewed here.
Abridged versions of the Manifesto, In a Nutshell, Conformance Check List and Interoperability Framework, Best Practices and Solutions will be available for download in the near future.