Consortium
Institute of Information Science & Technologies, National Research Council, Italy

ISTI-CNR, which is committed to ensuring scientific excellence and fostering technology transfer in its field of expertise, are financial, scientific and technological co-ordinators of DL.org. ISTI experts playing a leadership role in DL.org are part of a team from the Multimedia Networked Information System Laboratory advancing Digital Libraries through EC-funded initiatives, such as the DELOS Network of Excellence. Specifically, ISTI-CNR lead project monitoring and assessment; Digiital Library Models and Patterns; and play a key role in the Thematic Working Groups on Interoperability.
Department of Informatics & Telecommunications, Athens University, Greece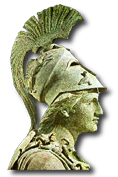 The Department has a rch and vast experience in Digital Libraries, User Interfaces and Distrubted Systems, among others, bringing to DL.org expertise gain in a number of EU research and development projects, including the DELOS Network of Excellence. Athens University lead activities related to the Thematic Working Groups on Interoperability: Definition and Operation, as well as activities pertaining to DL.org Events, and eplay a key role in eTraining through the design, provision and assessment of on-line training courses to meet the needs of the DL community.
Humanities Advanced Technology & Information Institute, Glasgow University, UK

HATII at Glasgow University is a world-leading institute researching the application of advanced technologies to cultural and scientific heritage with particular reference to digital curation and preservation. Glasgow University brings in-depth knowledge on Digital Library interoperability, models and patterns. Partners also lead the DL.org Summer School, which focuses on high-level courses for suggested and implemented solutions for DL interoperability.
Trust-IT Services Ltd, UK

Trust-IT Services Ltd distinguishes itself by providing innovative communication platforms for high-end multicultural audiences from business, government and research. Trust-IT leads DL.org Dissemination and Training, bringing expertise in communication strategies and in creating effective messaging to target communities. Trust-IT has xtensive experience in strategic marketing & planning, providing high-level support for DL.org Workshops. Additionally, the company supports overall project co-ordination. Partners are technical co-ordinators of OGF-Europe, an EC-funded project aimed at mobilising communities for best practices and standards for distributed computing, which serves as a member of DL.org's Liaison Group.