1st DL.org Workshop
DL.org 1st Workshop: Digital Libraries: Interoperability, Best Practices & Modeling Foundations, 1 October 2009, within ECDL2009, Corfu, Greece

Corfu Holiday Palace - night scene, venue of the 1st DL.org Workshop
Achievements
"Very interesting and useful session!", Radoslav Pavlov (representative – Desislava Paneva-Marinova) – Institute of Mathematics and Informatics at Bas (Bulgaria)
Attended by over 50 participants from the DL community, the 1st DL.org Workshop brought into sharp relief Digital Library (DL) interoperability issues with regard to the six conceptual DL components identified in the Reference Model. The Model is providing the framework for the deliberations and evaluations of a large number of experts participating in DL.org's Working Groups. The interactive debate and position statements offered an effective forum for the exchange of experiences, ideas and knowledge moving forward.
Resources
Speaker Profiles; Talk Summaries; Position Statements; DL.org 1st Booklet on Digital Library Interoperability, Best Practices & Modelling Foundations; BlogCast from the Workshop
Keynote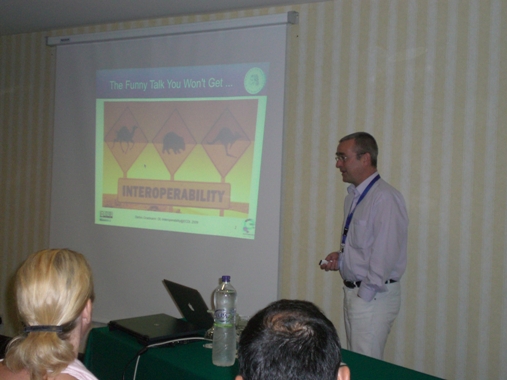 Stefan Gradmann (pictured), a distinguished member of the Digital Library community, delivered a keynote on "Interoperability Challenges in Digital Libraries", with particular reference to Europeana, whose future development depends critically on the effective interoperation of multiple independent pieces.
Talks
There were seven additional presentations, starting with a brief introduction and outline of the DL.org project and the Reference Model. Six expositions, each related to one of the main DL concepts captured by the Model, focused on the initial outcomes of the collective work of DL.org's Working Groups: content, functionality, users in session one; policy, quality and architecture in session two.
Interactive Panel Discussion & Position Statements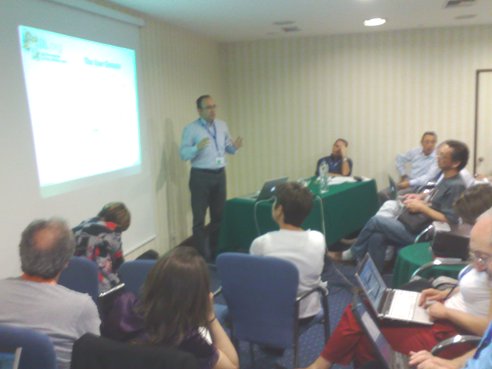 The final part of the Workshop opened the floor to participants offering a springboard for further discussions and exchanges of ideas on effective methods for DL interoperability and best practices. Moderated by Yannis Ioannidis (pictured with audience), deliberations revolved around ways in which the Reference Model can be enhanced by identifying commonalities with approaches to challenges in the arena of information systems, as well as pinpointing the specifics that define DL interoperability. Discussion points also focused on addressing mass digitisation in the Reference Model, close collaboration between computer scientists and digital librarians, and fostering forward-thinking approaches in academic courses on information science and library services, such as incorporating current and future versions of the Reference Model, with the aim of enabling the next generation of DL professionals. The Workshop concluded with participants volunteering their own position statements on DL interoperability challenges and DL.org's approach to this highly complex issue.
Workshop Chairs
Donatella Castelli, ISTI-CNR, co-ordinator of DL.org
Yannis Ioannidis, University of Athens
Seamus Ross, University of Toronto


Programme Committee
Marianne Backes, Luxembourg-based Centre virtuel de la Connaissance sur l'Europe, Luxembourg
Stephen Griffin, National Science Foundation, Division of Information & Intelligent Systems, US
Geneva Henry, Rice University Digital Library Initiative, U.S.
Dagobert Soergel, University at Buffalo, U.S. & Scientific Chair of the Functionality Working Group